The Tampa Bay EMS Journal was the first peer-reviewed journal for EMS. It began publication in 1987, and after just 4 issues, it became a national publication – the Journal of Prehospital Medicine.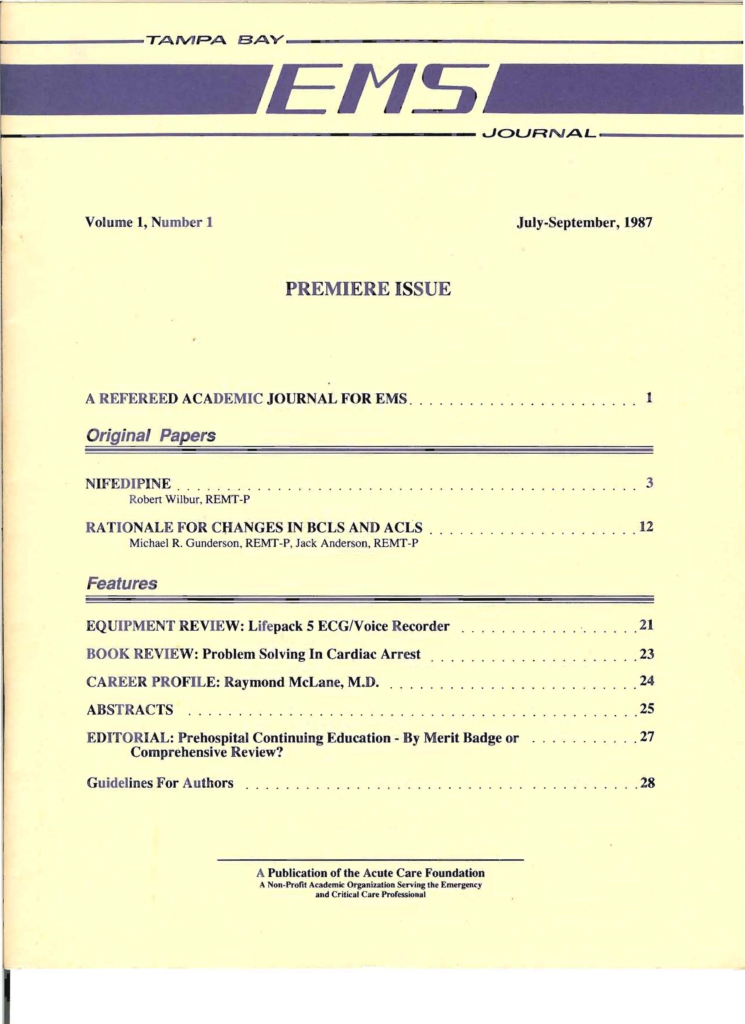 It was started in 1987 by Mic Gunderson with assistance from a few of his EMS colleagues – most notably Michael King, Joe Nelson, and Jack Anderson. They formed a not-for-profit corporation called the Acute Care Foundation to be the home of the journal and support related activities. The journal was composed on early versions of the Macintosh computer. Local EMS medical directors and physicians from the University of South Florida College of Medicine that were interested in EMS were part of the initial editorial board – along with other more academically oriented EMS colleagues from the area.
The journal was distributed quarterly and free of charge to local EMS agencies. Some additional courtesy copies were sent to various EMS organizations and EMS oriented physicians and researchers around the country to gain their interest. The publication was financially supported by advertising and a small grant from the State of Florida EMS Office helped to get it started.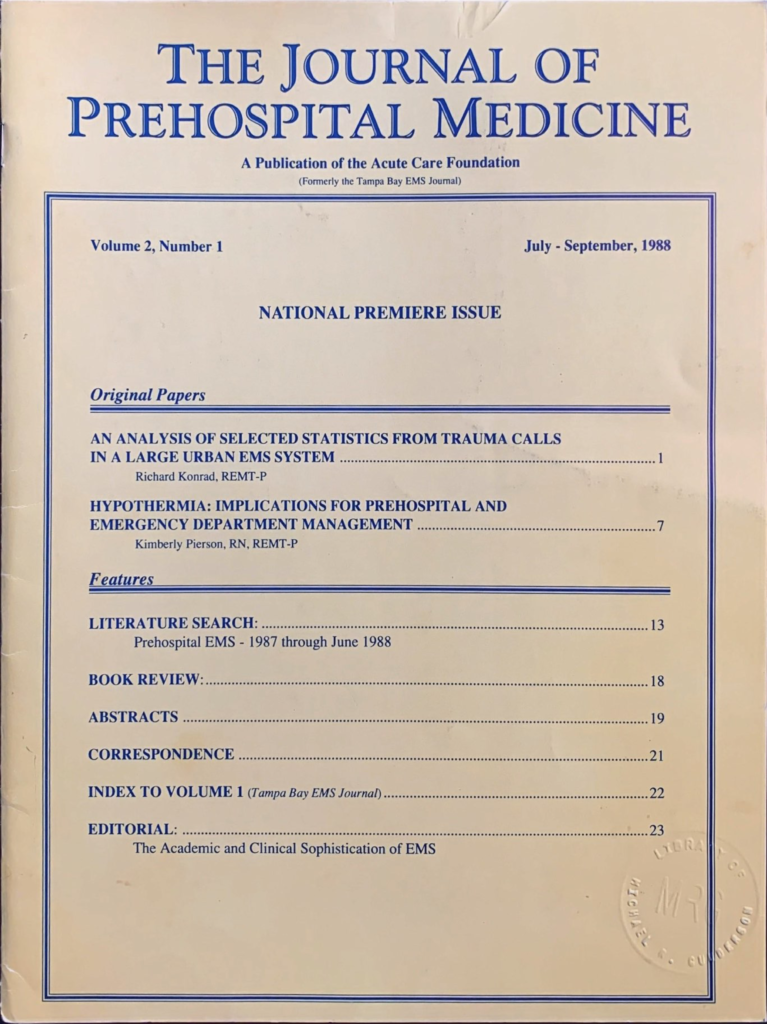 The Tampa Bay EMS Journal caught some national attention, which led to it becoming a national journal. It was renamed to the Journal of Prehospital Medicine. After only two national issues were released, it merged efforts with the National Association EMS Physicians (NAEMSP) and the World Association for Disaster and Emergency Medicine (WADEM) to create Prehospital and Disaster Medicine. This new journal assimilated the Tampa Bay EMS Journal, Journal of Prehospital Medicine, and WADEM's prior journal – the Journal of the World Association for Emergency and Disaster Medicine.
Prehospital and Disaster Medicine is still being published. A few years after Prehospital and Disaster Medicine launched, NAEMSP spun off a separate journal called Prehospital Emergency Care – which is also still being published.
Complete issues and individual articles from both journal titles are shown here in chronological order. Get a free 'Registered User' account to access and download complete issues and individual articles free of charge. The tables of contents for each issue are shown below.
Tampa Bay EMS Journal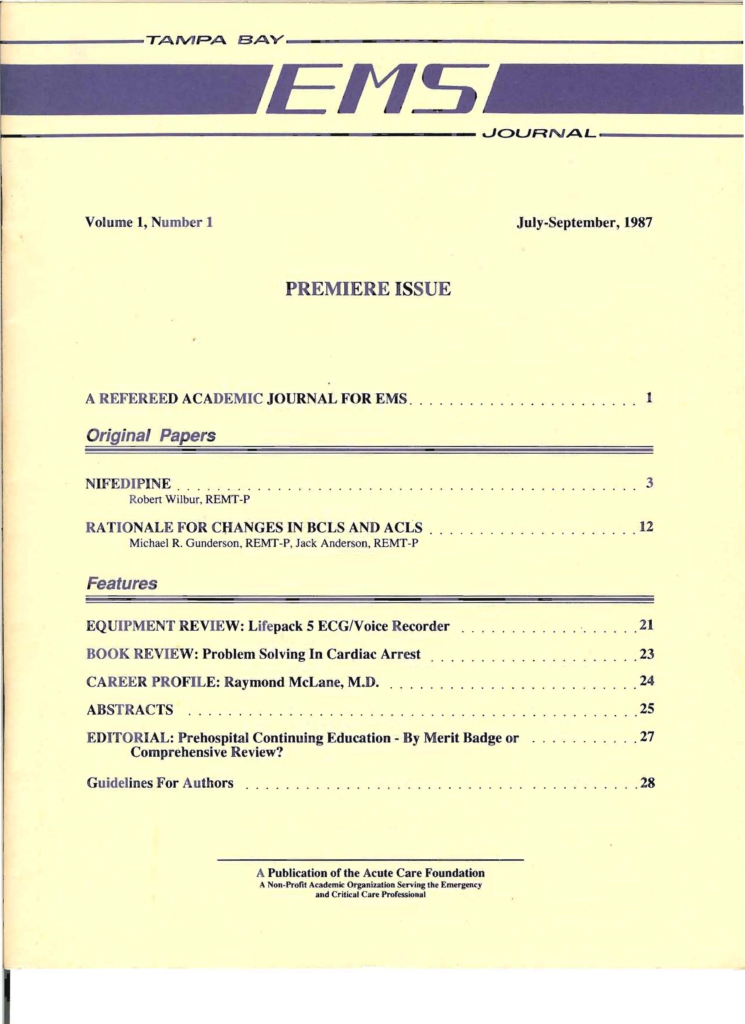 July-September, 1987 – Volume 1 Number 1
Premiere Issue
October-December, 1987 – Volume 1, Number 2
January-March, 1988 – Volume 1, Number 3
April-June, 1988 – Volume 1, Number 4
Journal of Prehospital Medicine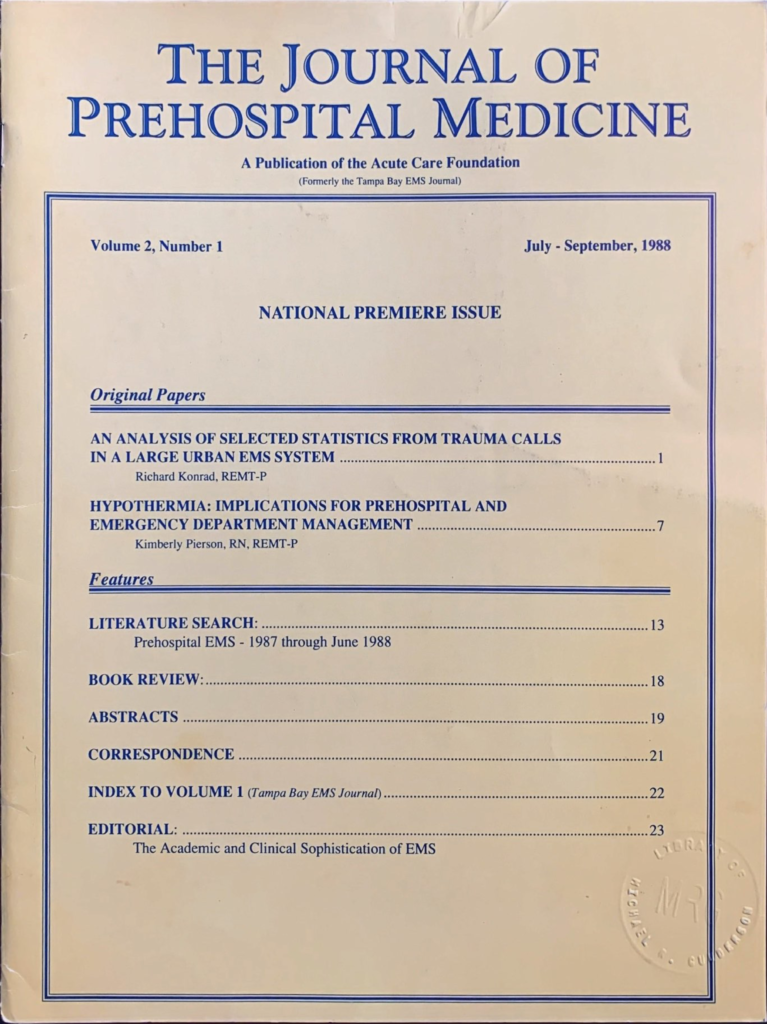 July-September, 1988 – Volume 2, Number 1
National Premier Issue
October-December, 1988 – Volume 2, Number 2